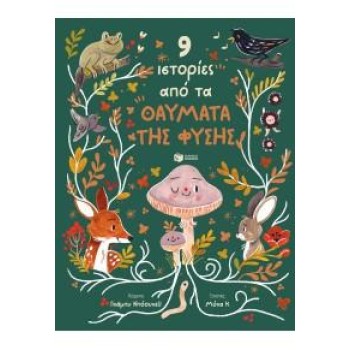 -10 %
9 ΙΣΤΟΡΙΕΣ ΑΠΟ ΤΑ ΘΑΥΜΑΤΑ ΤΗΣ ΦΥΣΗΣ - 5 minute nature stories
Description
In the green meadow that stretches ahead here, there is a world that I want to visit with you.
Discover the wonders of nature through a collection of stories that celebrate our world and the environment we live in.
Nine short and meaningful stories, written by environmentalist and poet Gabby Downey, that celebrate the wonder of life in nature.
A unique gift book for every little nature lover.
Book Details
Pages
96
Writer
Dawney Gabby
Publisher
Εκδόσεις Πατάκης
Year published
Οκτώβριος 2022
Translation
Φίλιππος Μανδηλαράς
Age
5+
Not visible
Release_date
2022-10-10 00:00:00
Stock:

In Stock

SKU:

9789601667737

ISBN:

978-960-16-6773-7